2002 - 25 Year Reunion
The Year was 2002
The Del Rio High School Class of 1977
25th Class Reunion has come and gone.

Check out the photos and enjoy the fun!
Well Class, we had our 25th reunion on June 19-20, 2002. It was held at the old Kress building which has been turned into an event center by our own JP Sanchez. For those of you that made it, you know how much fun there was. For those of you that missed this occasion, shame on you, and hope you can make it to the next one. I hope the following pictures will give you an idea what went on.
Enjoy the Trip!
To the left we have:
B'Ann Ballard Vaughn,
JP Sanchez
and Rosa Linda Benavides Sanchez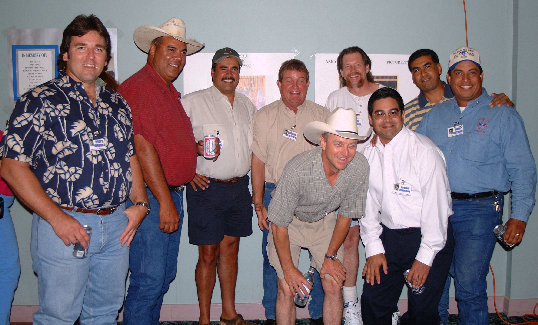 Here we have:
Keith Wright, Raul Martinez, Bill Hogan, Gordon Bruce,
Craig Brodecker, Julian Fernandez, Lupe Guzman, and in front,
Jeff Luce, Hector Calderon
To the right:
Debbie Salazar,
Blanca Oviedo Escobedo,
Mary Jane Valdez
Above we have:
front: Carmen Herrera, Eddie Villarreal
back: Roberta Jankowski Valero,
Becky Smith, B'Ann Ballard Vaughn